In modern IT sales, suppliers are often late to the conversation. As the diagram below indicates, a sales journey is typically 57% complete by the time a customer reaches out to a tech supplier. By this stage, the business will already have identified its needs, set priorities, defined requirements, compared providers and benchmarked prices.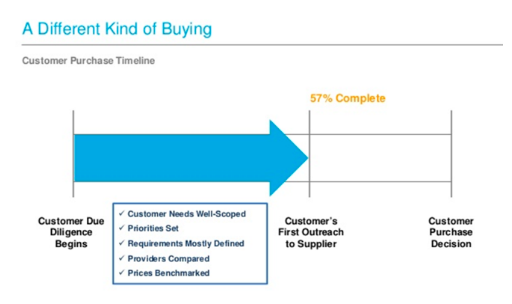 Most buying committees don't want to talk to a sales representative unless they really have to, and as a result, suppliers often end up in a commodity trap – where they compete to solve an assumed problem and end up competing on price, rather than overall value.
So how do you get involved earlier? It's easier said than done. However, here are two proven tactics that result in more meaningful conversations, sooner.
Teach your client something new about their business
Recent research¹ suggests teaching customers something new about their own business is the single biggest driver when it comes to resetting their buying criteria.
Fuji Xerox¹, for instance, were trying to sell their high quality colour printers into K-12 schools, without success. When they thought about what really mattered to the buying committee within schools and what they could teach them around it, they recognised that schools are all about achieving the best learning outcomes for students and building a strong reputation in the community. When they switched their messaging focus from product specs to helping 21st century kids learn better with more intense colours and visuals, they started selling their premium colour printers into schools with much greater success.
By creating messages that teaches your customers something new about their own business, you're far more likely to be involved earlier in the buying process.
Create tension
To be invited to talk to a prospect before they would ordinarily reach out to suppliers, you need to create a tension.
Often, it's a little provocative to call someone out on what they're currently doing, and the negative impact it's having on their organisation, but it's necessary in order to cut through the dross of ads and pitches and marketing speak your prospects face daily.
By making prospects feel slightly uncomfortable about what they're doing now, you have a much better chance of opening the door to then teach them about how to approach it differently.
To avoid inertia, the case needs to be created that the pain of change is less than the pain of remaining the same.
Want to find out more?
To find out more about B2B tech marketing and how Splendid can help, get in touch.