We live in a fast-paced and information-rich world. To find the answer to a question or learn more about a particular topic, we simply need to pick up a device and enter a few basic questions.

However, an abundance of information isn't always a good thing. Firstly, there's the task of sorting the wheat from the chaff – of determining which information is actually factual and can be relied upon. And secondly, there's the ever-increasing issue of information overload – of not being able to make decisions, or being slow to do so, because of the sheer volume of information we have at hand.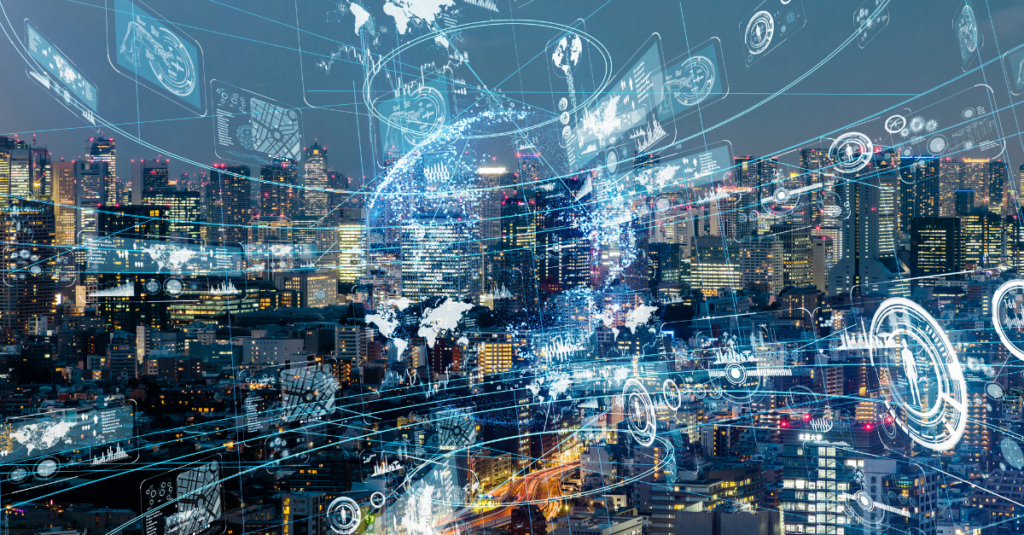 What does this mean for B2B technology sales?
The decision to invest in a new piece of technology – or to upgrade an existing one – is a big one, and often requires extensive research, time, and information-gathering. As such, the problem of information overload is particularly relevant in our sector.
In fact, in this whitepaper, Gartner points out that a whopping 55% of surveyed business customers say they encounter an 'overwhelming amount of trustworthy information' during the purchase process. Similarly, 44% struggle with the fact that information from various suppliers, while all seemingly trustworthy, is contradictory.
"This misalignment only adds to the difficulty in an already difficult purchase process. When customers are overwhelmed, they are far more likely to make a smaller purchase – or do nothing at all – to play it safe," the report says.
This poses some key problems for B2B technology marketers:
SLOW DECISION-MAKING
According to Gartner, today's B2B customers spend 15% of buying time trying to reconcile or deconflict information. If a technology sale usually lasts 12 to 24 months, that's a two to four-month delay in making a purchase.
THE CHALLENGE OF DIFFERENTIATION
For modern marketers, the challenge is no longer ensuring that customers have enough high-quality information in order to make a purchase. It's about ensuring that this information stands out in a sea of other high-quality information.
consumer skepticism
With so much information being thrust their way, it's easy for technology buyers to lose trust in the value of that information – even when it's factual and of high quality. This means that, to stand out, sellers need to actively help customers digest the information they have received, guide them through it, and aid them in making sense of it all. This is where the 'Sense Making' approach comes in.
What is Sense Making?
Sense Making is, quite literally, about helping buyers make sense of the huge amounts of information, advice, and instruction they have received. It's about guiding customers to evidence and prioritising simplicity over comprehensive detail.
Sense Making, according to Gartner, is different to a 'giving' approach ("I can get you a lot more information on that") and also a 'telling' approach ("Let me tell you what you need to know") and is also a lot more effective: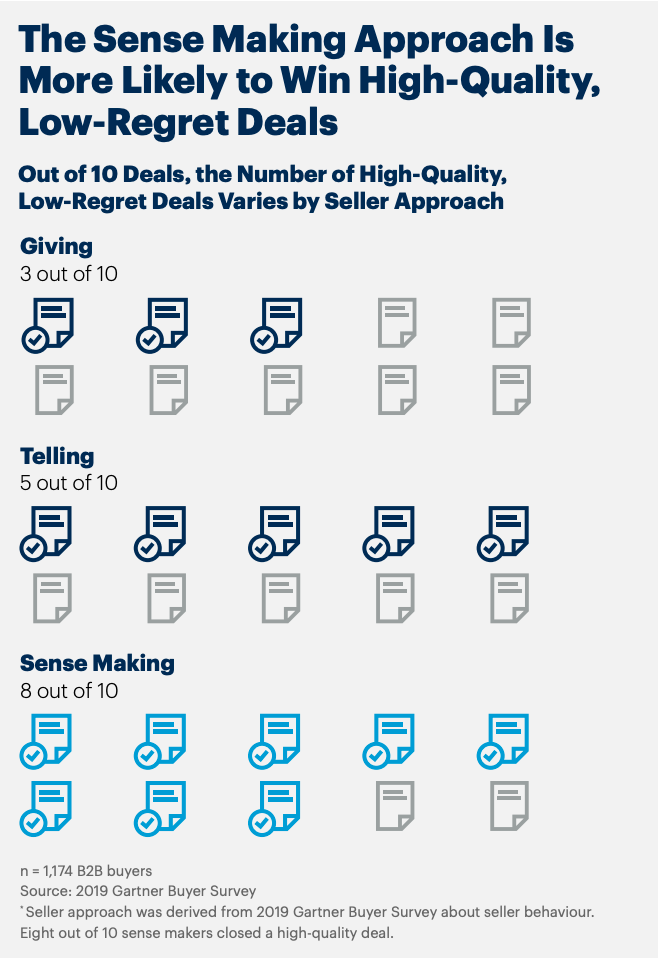 In a practical sense, taking a Sense Making approach means:
Seeing things from the customer's perspective
Being able to approach a sale with the customer's needs in mind has always been an important element of marketing. However, with Sense Making, it's about seeing the information-gathering process from their point of view too. It's about working jointly with customers to help them digest everything, sort through it all, and make smart, evidence-based decisions.
Simplifying the process
Sense Making is also about distilling down an abundance of information into clear, easily digestible, high-value messages for customers – so the decision-making process is as clear and straightforward as possible. This could include directing customers to helpful tools, conducting research on their behalf, or presenting them with new information they would not otherwise have uncovered.
Backing everything up with data
According to Garter, Sense Making is also about defaulting to data and evidence when interacting with customers, as opposed to stories and opinions. It's about uncovering the hard facts and letting these speak for themselves.
Helping customers learn
Gartner also suggests that Sense Making is about collaborative learning – helping customers arrive at their own understanding and encouraging them to independently verify information provided by sellers on an ongoing basis.
Is it effective?
Research suggests that a Sense Making approach can be highly effective in reducing skepticism and speeding up the sales process.
In fact, sellers who adopt a Sense Making approach are 26% more likely to close high-quality, low-regret deals.
Unfortunately, however, only 24% of sellers consistently apply a Sense Making approach in helping customers with information. And this is where Splendid can help.
Can we help you take a Sense Making approach to your B2B technology marketing?
If you want to discuss Sense Making and how it can work for your business, get in touch.