The last 18 months or so have completely changed the game for event planners and marketers around the world. With travel off the cards for some time, most businesses have had to very quickly embrace new, virtual event models – with 93% of event organisers to invest in virtual events for the foreseeable future. Virtual events can certainly be more cost effective, provide extensive opportunities for data capture, and typically attract greater attendance numbers. A recent study found that close to 98% of attendees at a hybrid event had no plans to attend the live event, but were attracted by the convenience and effective use of time which the virtual model offered.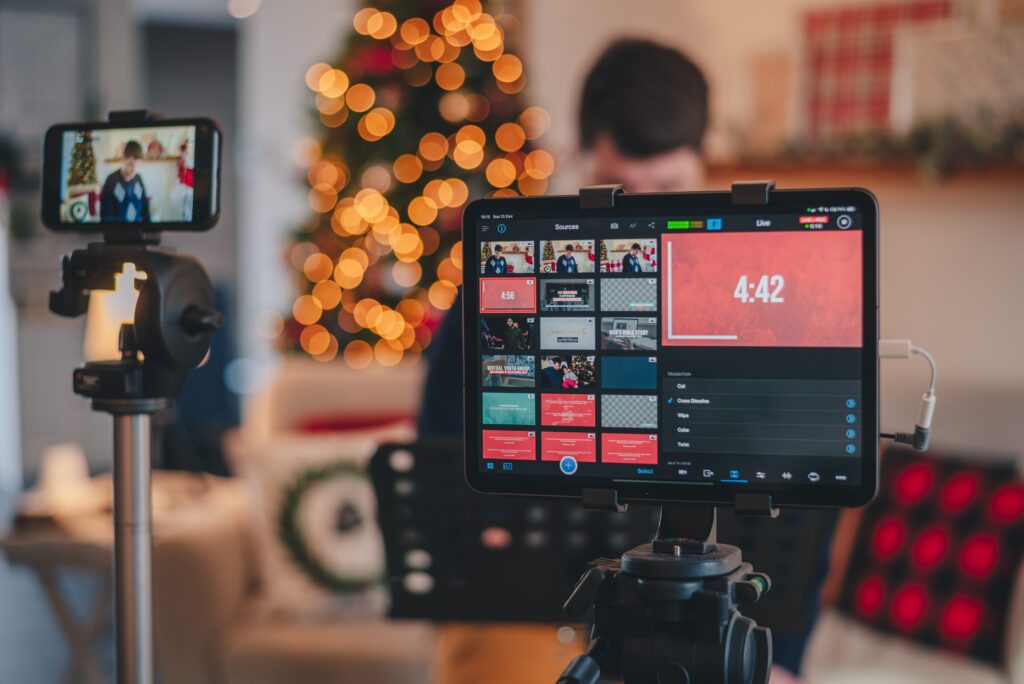 But in the age of video-call overload, how do you create a point of difference for your virtual event? How can you best engage your audience through a screen? And how do you build something that's sustainable, that audiences will potentially pay for in the future?
Here's our roundup of some of the innovative tools and technologies that we're starting to see in the events and experiential space, many of which we have employed in the events we produce at Splendid.
Take me somewhere new: Virtual tours
Right now, quality armchair travel is the closest we get feeling like we're somewhere other than our living rooms. Several events are tapping into this, using virtual reality to transport attendees to other locations.
Last year, for instance, the US-based firm, Domo, was due to have a three-day Domopalooza conference, with an expected attendance of 3,000. Then Covid-19 hit, and with just three weeks to spare, the business quickly switched to a digital live and on-demand event with the theme: 'Go fast, go big and go bold'.
Originally, the event was to be held in Utah, in the USA. To create a sense of authenticity and excitement, Domo therefore gave delegates a tour of Utah while they absorbed the session content. For a unique edge, keynotes were even filmed in actual locations like the iconic Bonneville Salt Flats, and the salt mines of south-central Utah.
Get people talking (at scale) – Chatbots
Chatbots are being increasingly used in B2B marketing – to simplify and add value to online transactions. According to a study by Forrester, people are typically more inclined to engage with a bot than they are with a salesperson. 59% of B2B buyers do their own online research and prefer to not interact with a sales representative as their primary source of research.
Now, smart event planners are including chatbots as part of the event process, to make the process much smoother and more straightforward for attendees. This includes things like providing assistance when registering for an event, or helping an attendee add a session to the calendar. During a particularly complex technical session, a chatbot can also answer an attendees' questions, and – once determining a person's areas of interest – recommend sessions of interest, or provide them with supplementary material.
With the increase in numbers of attendees at virtual events, harnessing this sort of technology to augment your human support crew makes a lot of sense.
Expect some competition – Gamification
A concern that many people have with shifting to virtual events is that they lack the social elements of a face-to-face event. Gamification offers a way around this, giving people a new way to interact in the digital space.
Last year, for instance, Red Hat held its 'From here, Anywhere' summit online, with over 300 sessions featuring guest speakers from around the world. They also created a 'play' tab on the event website – where attendees were encouraged to participate in Red Hat trivia, play games, collect swag, use photo filters and more. This kept people engaged and replicated the fun of face-to-face events.
Aruba did a similar thing with their recent 'Define your Edge' virtual conference. Attendees were encouraged to take a break and engage with featured content including three different DJ sets, livestreams of Aruba staff attempting to eat some of the world's hottest chilies, and a quiz named 'do you have a sixth sense?'.
Rather than taking on the burden of entertaining all of your guests all the time, gamification connects guests with each other, creating engaging experiences all on their own.
Make it personal – Custom experiences
In a face-to-face event, attendees will often get to choose – and attend – the sessions that are relevant to them. Virtual event organisers are now replicating this experience, but going a step further – offering a very customised digital experience for guests.
In a recent OCP virtual summit, users were asked to create their own profile so they could effectively network with other users, participate in Q&As, join panel discussions and arrange their own one-on-one sessions with attendees, exhibitors and sponsors. By creating a profile, people could also save materials and messages from the summit in their own virtual event 'swag bag'.
Are you hungry? – Contactless food and drink service
Another way to bring a virtual event to life is to organise a physical food or beverage delivery for attendees prior to the event – ideally, one that's in some way connected with your brand or offering. We recently produced a webinar Master Class series for our clients Interactive, and delivered a bottle of local, boutique Whiskey and chocolates to every attendees' location prior to the webinar. A breakout session, facilitated by Master Distiller, walked the attendees through their very own tasting class.
For events that are being held in a hybrid capacity, with some attendees on site, there is the option to offer contactless delivery through apps such as Me+U.
What's on your mind? – Online polls and chat rooms
Many attendees complain that virtual events can feel fairly anonymous and impersonal. By providing ways for people to connect, express themselves and share ideas – such as a polls, Q&A sessions, live chats, or downloadable resources, you can drive genuine and ongoing engagement.
Some platforms also offer the ability to integrate with widgets, such as sli.do, to help ramp up interactions. 30% of people also say they are more likely to speak to a person in a 'virtual booth', so offering opportunities for private, one-on-one interactions in your event is another great way to keep people engaged.
Bringing it all together
While these tools and techniques, can work to engage your attendees in the right context, avoid the temptation to 'slap an app on it' – your event or digital experience could end up a mish-mash of ideas and techno-gimmicks.
At Splendid Group, we always start the planning phase by developing a cohesive Experiential Strategy, that not only maps the event to your objectives , but also to your broader marketing or comms efforts. Its important to plan every aspect of your event from start to finish (and beyond), to not only determine how best to get your message across but also to ensure the experience is rewarding, entertaining and educational for your target attendees.
I'd be very interested to hear your ideas for and recent experiences of digital and hybrid events. My Team and I at Splendid  are always  looking for opportunities to help create experiences that help brands be better understood by the audiences they most need to reach. Get in touch and lets start the conversation. 
Melissa Parnell