Splendid's recent survey to B2B tech marketing leaders in Australia (report coming out soon) showed that over 50% believe the use of marketing assets by sellers in their organisation is selective and inconsistent at best. It's safe to say that if your sales team is in sync with your marketing efforts and are effectively using the content you've painstakingly sourced or created, you're the exception.
The wall between sales and marketing has been in place for decades, and it is no small point of frustration across the industry, particularly as sales can be a marketing team's most effective channel.
Which begs the question, how do you operationalise the use of your marketing assets by the sales team?
Understand what your sellers should be famous for
Suppliers are late to the sales conversation. If you've worked with Splendid before, chances are we've talked ad nauseam about the fact that by the time a prospect chats to a sales exec, they've completed 57% of their purchase process. The prospect's needs are well scoped, priorities are set, requirements defined, providers compared and prices benchmarked, meaning you are now a commodity and are competing to solve the organisations defined problem and compete on price.
Sellers need to get in front of the RFI process by dialling into a perspective that creates enough tension to force a response from the prospect. By knowing who the key stakeholders in a buying committee are likely to be, what their needs are and where these needs overlap; content can be created that links where the buying consensus is likely to be with your brand's unique strengths and most importantly, create an engagement point early in their decision-making process.
This tiny bullseye, where the buying committee's shared needs and your USPs overlap, is what sellers should become famous for. This is where they can provide the most value to your prospects by teaching them something about their organisation that they don't already know and creating constructive tension. It also increases their odds of making a high value sale. Our recent survey to Australian B2B tech leaders also uncovered that in today's challenging market thought leadership is recognised as the #1 thing that sellers need to best engage customers.
Preparing your seller
The good news is finding the commercial insight i.e. the shared need of the buying committee that ties nicely back to your USPs, is by far and away the hardest part. Once that is decided and agreed between sales and marketing for the quarter, the rest is process driven:
Pimp their profile – Updating seller's social profiles to reflect the needs of the industry and prospects, particularly around the commercial insight. Also give and request references and endorsements.
Build a prospect list – Typically for that quarter focusing on companies/industries that you believe will be most receptive to your commercial insight. It could be 100, 500 or 1,000 names long.
Connect to the prospects – Sellers then reach out to the prospects across the relevant social platforms, typically LinkedIn, and connect with them. It's worth employing 'test and learn' around tactics until you find a solid or valuable statement or content piece that entices connections.
Plan and execute your comms calendar
1. Audit and map existing content against the buying journey
Once you have identified the commercial insight you want to anchor in on, the next steps are to understand the content you already have to support the insight and identify any gaps. With this approach, look to leverage high quality Corp and/or existing assets first. Splendid's Strategy Director, Mel Johnstone, recently documented how to audit and map your existing content as well as identify where the gaps are, here.
Any local content creation would seek to fill gaps with missing content, ideally overlaying insight from your sellers/Subject Matter Experts. 2. Create a content calendar and start executing
A sample content calendar template focusing on K-12 schools is below. It breaks down the content by channel, the commercial insight of focus for that quarter, the buying committee audience, the content/asset is targeting and when it should go out.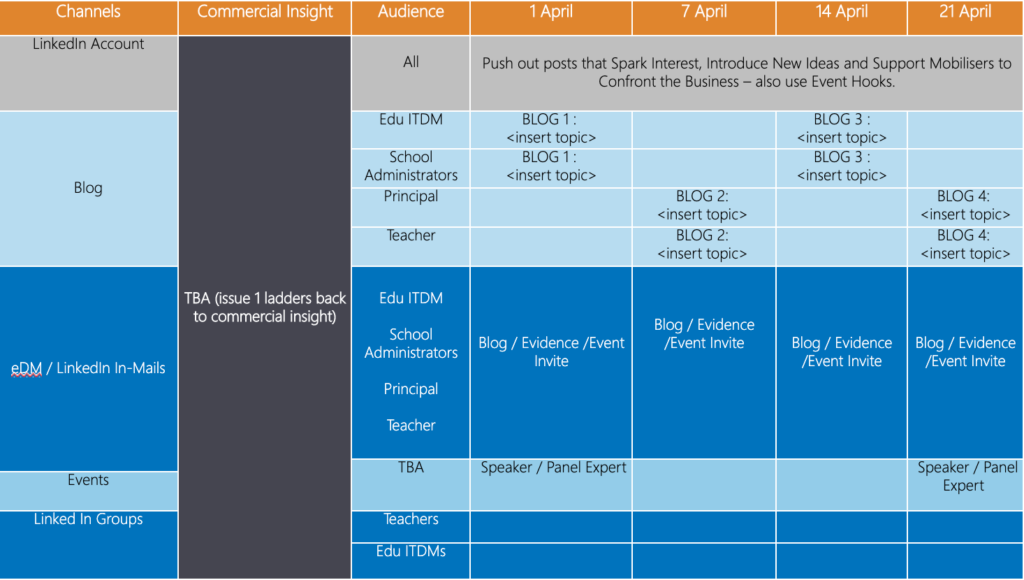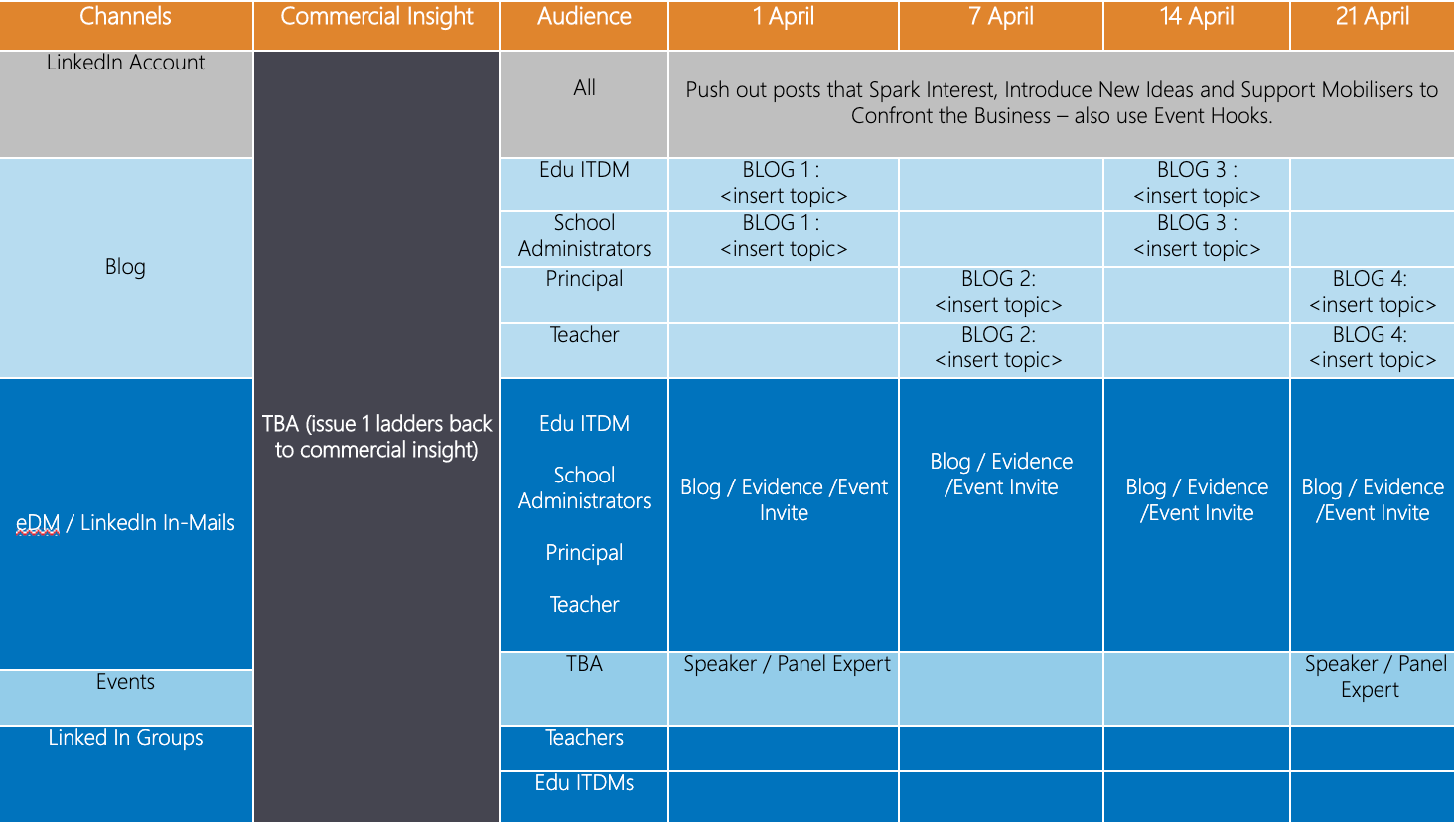 And thus a programmatic push of content begins… a regular drum beat of communications around the commercial insight you've dialled into. It will invariably include regular jabs of relevant content: a mix of your own, third party, relevant questions into the target audience and the occasional well timed gated 'hook' to bring prospects into the buyer's journey or nurture funnel. It's worth noting that there are a lot of tools such as LinkedIn elevate that can help here if the cost of the licenses can be justified.
3. And finally, regular WIPs with sales and marketing.
Discuss what's working, what's not, where leads are coming from, the status of each lead, what content is driving the best engagement, who needs tele outreach based on lead scores as well as understanding the current pressures customers are facing in order to drive the next cycle of the content calendar.
And next quarter?
You do it all again. From creating/updating your prospect list, finding and selecting a commercial insight to focus on for the quarter (or roll over from the previous quarter) through to mapping and executing content. It's a marathon, not a sprint and the best results come through consistent application over time.